May has arrived, and now that spring is in full swing you can expect to see Farmer's Markets popping up in parks and community lots everywhere.
Farmer's Markets are excellent because you can get some of the freshest produce possible directly from the source. A few reasons I enjoy farmer's market days: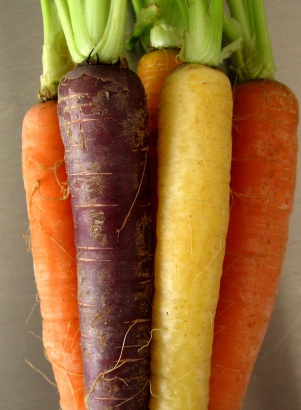 Colorful AND delicious!
You get to meet the people who grew your food. It brings a strong human element into the picture which you just can't find at the grocery store. Plus, there are often musicians and artists who bring an excellent community feel to the event.
You skip out on the over-packaging practices that are common when getting your produce from far away. Take mushrooms, for example – you can get them vacuum-sealed in Styrofoam and plastic at the grocery store, or you can pick out exactly how many you need at the market and bring them home in a reusable container.
Variety! Did you know that certain varieties of carrots are PURPLE? You don't normally find that in the produce section! Plus, purple food = antioxidants = extra good for your health!
Y

ou can feel good knowing that your produce arrived to you from nearby, meaning that they weren't carted in from far away using lots fuel that polluted the air.
This stuff is FRESH and RIPE. You know when you get strawberries from the store, and the insides are white? That's because they had to be picked a little early to arrive to you before they went bad. I find that the strawberries at the Farmer's Market are red (and so deliciously sweet) all the way through. And you just can't beat that.
Starbucks: Northwestern or Colombian product?














It's hard to tout Farmer's Markets without also mentioning
locavorism
. "Locavore" is a term that a North Carolina woman named Jessica Prentice came up with on World Environment Day in 2005. She and her friends wanted to challenge themselves to eat local foods for a month and see what it was like. Since then, locavorism has gained popularity across the country.
The challenge of being a locavore? Restricting your diet to foods that come from within a 100-mile radius of where you live. That makes coffee, bananas, and oranges difficult for us Northwesterners. So while it is a noble challenge, I know I wouldn't be able to commit myself wholly – but any step I can take is a step in the right direction.
So, have I convinced you to try going to a Farmer's Market? Not yet? You don't know where to find one? Well, I have good news for you – Farmer's Market directories are becoming more increasingly
available online
! A really good directory I've found is called
LocalHarvest.org
. By simply entering zip codes it came up with the market in Coeur d'Alene, ID that I used to visit with my dad; the market in Rathdrum, ID where I set up an arts & crafts booth with my friend; and the market in Corvallis, OR that I bike to on Saturdays.
I double-checked and found several other markets throughout Montana, Idaho, Washington, Oregon, and California. The web site also gives locations of co-ops and farms to make buying local much easier. Seriously; it's a gold mine.
So look up a market near your town and try going this week! It's an easy and fun outing, and you may find yourself walking home with some excellent salad makings.
-----